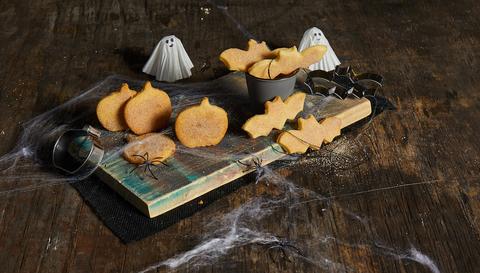 Get the kids into the spirit of Halloween without the mad sugar rush! These buttery light and simply delicious biccies are great alternative to candy!
Makes 20
Prep time: 10 min Cooking time: 12-16 mins

Ingredients:
Dough
1 ½ cups unsalted butter (diced 20cm)
1 cup Lakanto Monkfruit Golden Sweetener
3 cups plain flour
1 teaspoon cornflour
½ teaspoon vanilla essence
Cinnamon Sprinkles
¼ cup Lakanto Monkfruit Golden Sweetener
1 teaspoon ground cinnamon
Method:
Preheat the oven to 160ºC fan forced.
Mix the diced butter and sweetener in a mixer using the paddle attachment and whip until soft and smooth (approx. 5minutes).
Add the plain flour and corn flour and slowly mix speed 1-3 until fully incorporated.
Add in the vanilla essence and whip for 3 minutes on high. (This will sure a smooth and soft dough is created.
Remove from the bowl and place mixture onto a flour dusted surface. (Leave for 10 minutes, resting).
Gently fold the mixture on the bench it should have a silky feel. Roll out to the
desired size and height.
Cut the dough using halloween cookie cutters and gently place on the baking tray. Allow to rest for 10 minutes in the fridge (This will help keep the shape during baking.
Place the tray in the preheated oven for 12- 16 minutes depending on the thickness of the shortbread. Remove from the oven and allow to cool.
While still warm sprinkle the cinnamon mixture over the shortbread.