The showstopper ooey-gooey dessert to enjoy on ANZAC day.
One for the young and old to enjoy together. A delicious Anzac crumb flavour in the base and sprinkled on top is achieved by using our new Golden Malt Syrup, our alternative to using Golden Syrup. Plus you can't go wrong with adding a drizzle of our No Added Sugar Chocolate topping.
Our favourite part is slicing it up and watching that homemade condensed milk filling ooze out. Enjoy knowing that since it is made with Lakanto it is Responsibly Sweet!
No Added Sugar // Diabetic Friendly // Nothing artificial
INGREDIENTS
SWEETENED CONDENSED MILK
2 cups whole milk dairy or almond, oat milk etc.

¾ cup Lakanto Baking Blend

4 tablespoons salted butter

1 teaspoon vanilla extract
BASE
2 Cups Plain White Flour, 260 grams

1 Cups Packed Lakanto Golden Monkfruit Sweetener, 400 grams

2 Cups Rolled Oats, 190 grams

1 Cup Desiccated Coconut, 75 grams

250 grams Butter, diced

4 Tablespoons Lakanto Golden Malt Syrup, 60 mls

2 Tablespoons Water, 30 mls

1 teaspoon Baking Soda
CARAMEL FILLING
400 gram Homemade Sweetened Condensed Milk

2 Tbsp Lakanto Golden Malt Syrup, 30 mls

60 grams Butter, diced
TOPPING
½ Cup Sugar free Chocolate Chips 87.5 grams

½ Cup Lakanto Chocolate Topping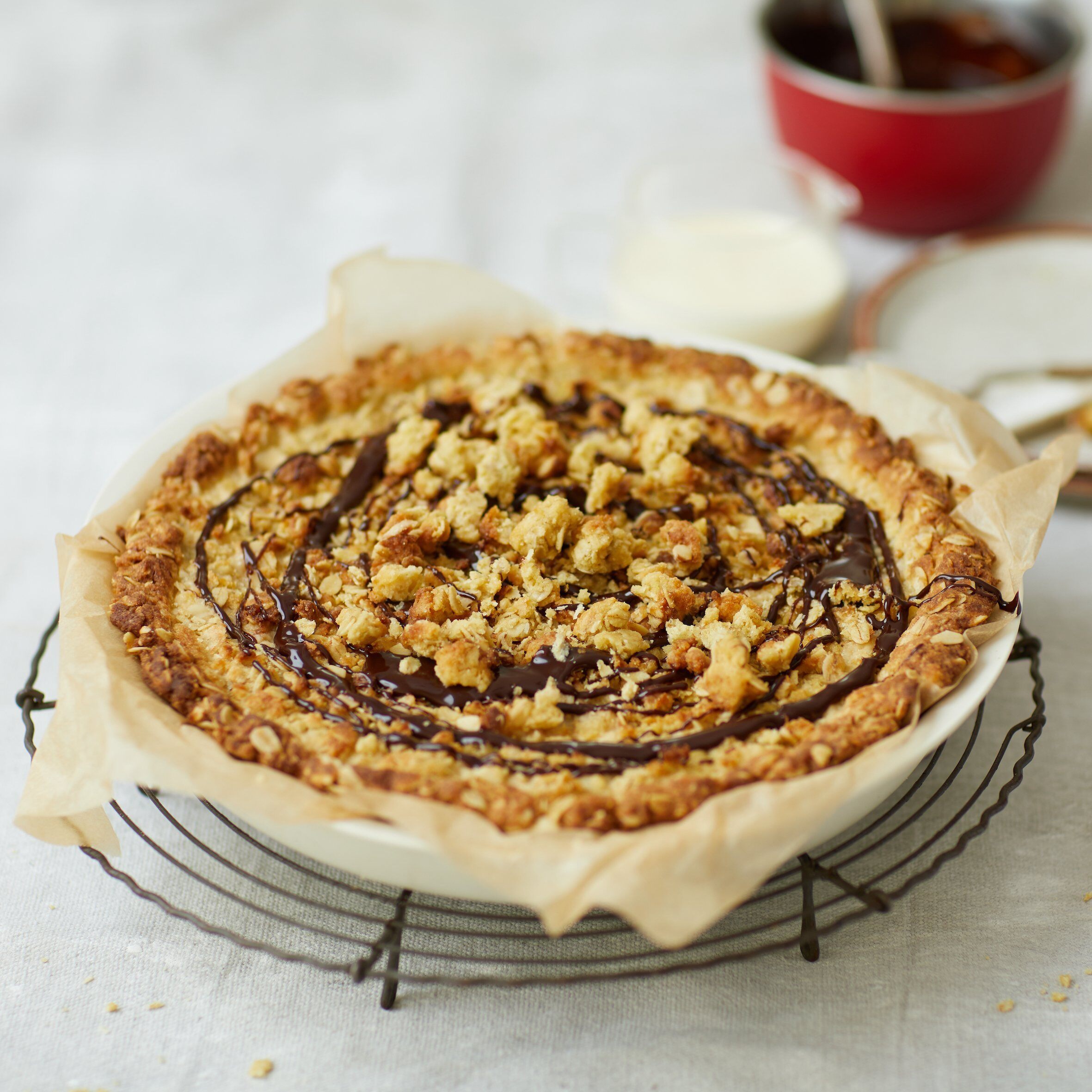 METHOD
SWEETENED CONDENSED MILK
Whisk together milk and sweetener in a medium saucepan over medium-low heat.

Whisking often, bring to a low simmer. Continue to simmer, whisking often, until milk has reduced by half, about 30 minutes.

Once reduced, remove from heat and stir in butter and vanilla.

Allow to cool and make tart base
BASE
Preheat Oven to 170C

Prepare a 25cm tart dish with melted butter over all the surfaces or baking paper.

In a large bowl combine the Flour, Lakanto Golden, Rolled Oats and Coconut, ensuring all the ingredients are well combined and no lumps of sugar remain and set aside.

In a medium saucepan heat the Butter on a low temperature until completely melted, to this add the Golden Malt Syrup and the water and whisk until blended through and remove from the heat.

Add the Baking Soda to the butter mixture and whisk until all dissolved.

Make a well in the middle of the dry ingredients and pour in the melted butter mixture.

Mix well to combine with a strong spoon.

Place 2/3rds of the mixture into the prepared tin and press down firmly until flat and prepare the caramel filling
CARAMEL FILLING
In a small saucepan or pot combine the homemade condensed milk, butter & golden syrup. Stir over a low to medium heat for 6-8 minutes, until mixture boils, thickens and changes to a slightly darker colour - it may catch so take care to stir constantly.

Pour the caramel filling over the slice base and spread evenly

Sprinkle the remaining slice crumbs evenly over the top of the caramel, then press this down with your palms until even.

Bake the slice for 20-25 minutes until golden brown, the slice will firm up upon standing.

Remove from the oven and allow to cool in the tin for 15-20 minutes.

Gently run a knife around the edges before carefully removing tart tin.

To remove the base simply use two wire racks one on top and one underneath to flip the slice and carefully peel off the base then invert back to the right way up using the same method.
TOPPING
Melt the chocolate chips in a small microwave proof bowl, 20-30 seconds at a time stirring each time until completely melted.

Add the chocolate topping and mix well.

Using a spoon, drizzle the chocolate all over the tart.

Slice and serve, it is lovely served warm or cold.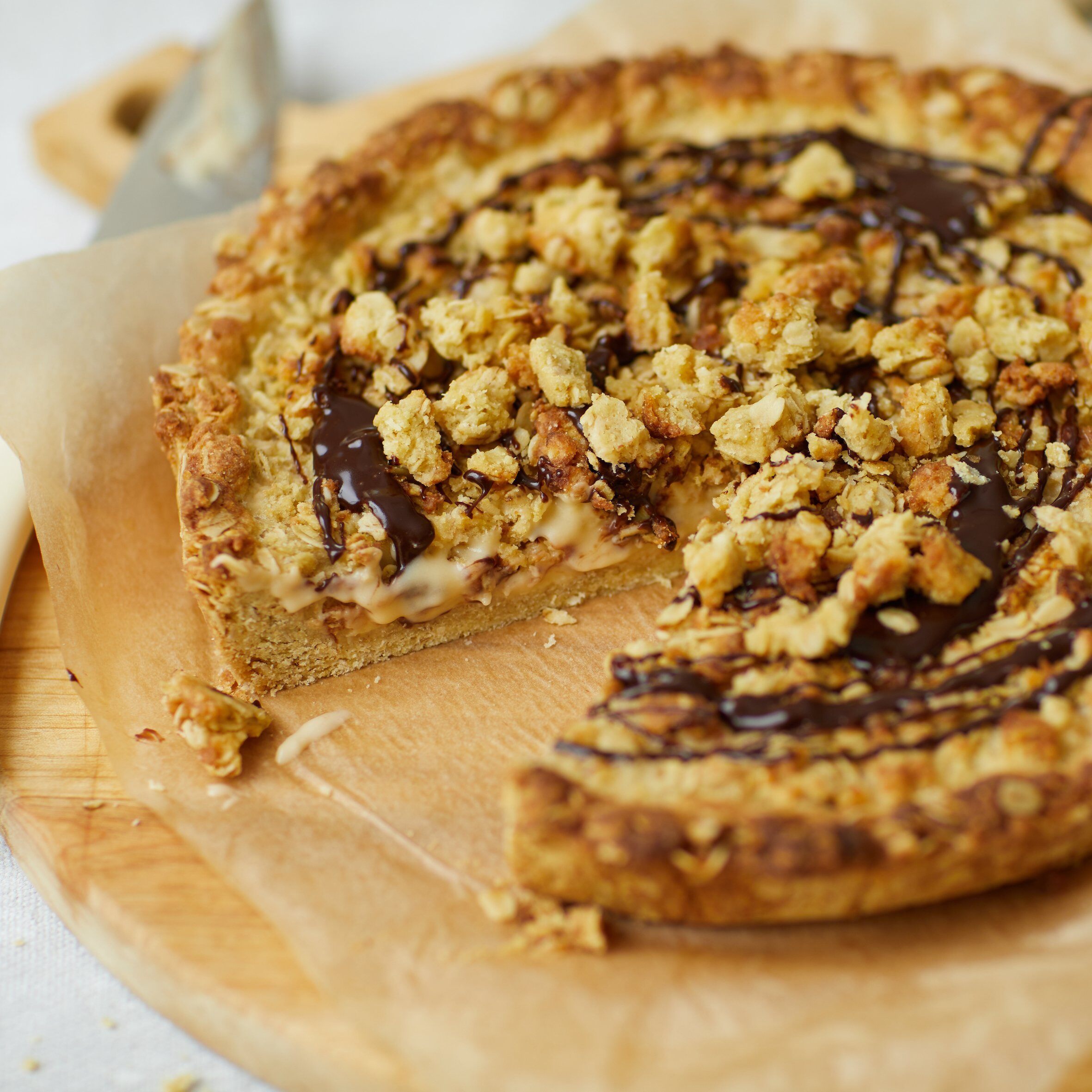 Approx. Nutritional Information Per Serve 124g - Energy 1750 kJ (418 Cal) - Protein 5.1g - Total Fat 32.3g Saturated Fat 22.7g - Carbohydrate 20.2g - Fibre 1.8g - Natural Sugar 2.5g Sodium 145 mg Erythritol 40.6g
RSLA0196