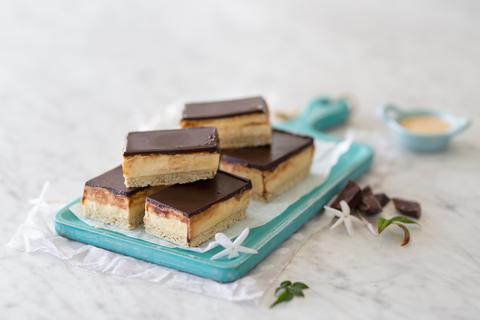 Enjoy this delicious decadent tasting caramel slice recipe without the guilt!
Ingredients:
Anzac Biscuit Base
1 ¼ cups plain flour, sifted
1 cup rolled oats
½ cup Lakanto Monkfruit Classic Sweetener
¾ cup desiccated coconut
2/3 cup unsalted butter, diced
2 tablespoon sugar-free maple syrup (see note)
1 ½ tablespoons water
½ teaspoon bicarb soda
Condensed Milk
4 cups full fat milk
¾ cup whipping cream
1 cup Monk Fruit Golden Sweetener
pinch salt
3 tablespoons cornflour
Chocolate Topping
1 cup sugar-free chocolate
½ cup coconut oil
Method
1. To make the chocolate topping melt the chocolate and coconut oil together in a small saucepan over a medium-low heat, stirring until smooth and combined.
2. To make the condensed milk combine the milk, cream and sweetener in a
heavy bottomed pan. Place over a medium heat and bring to the boil do not over boil or it will split. Reduce heat to low and then continue reducing the liquid until it halves in volume. This will take approx 20 – 30 minutes.
3. Add the cornflour and salt to taste cook for a further 2 minutes and allow to cool. Cover with cling film and refrigerate. Allow to fully cool before use.
4. Preheat oven to 170ºC.
5. To make the base place the flour, oats, sweetener and coconut in a large bowl and stir to combine.
6. In a small saucepan place the maple syrup and butter and stir over low heat until the butter has fully melted. Mix the bicarb soda with 1 ½ tablespoons water and add to the maple syrup mixture. It will bubble whilst you are stirring together so remove from the heat.
7. Pour into the dry ingredients and mix together until fully combined. Press the mixture on a baking tray lined with non-stick baking paper, make the height no higher than 10mm (1cm)
8. Bake for 12 minutes or until golden brown and cool.
9. To finish pour the hot condensed milk over the biscuit base and bake for 10 minutes, allow to cool or until set.
10. Once set pour the chocolate over the top and allow to cool in the refrigerator.