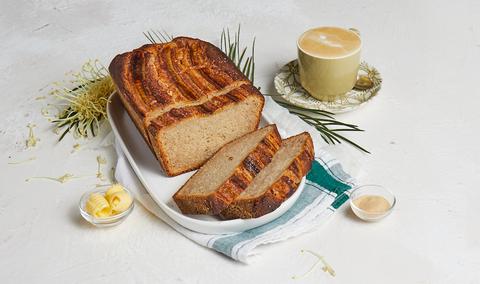 Moist rich banana loaf perfect for anytime snacking or school lunches with added protein keep you (and the kids) fuller for longer!
Serves: 6

Prep Time: 15 minutes Cook Time: 55-60 Minutes
Ingredients
1 cup Lakanto Golden Monkfruit Sweetener
1¼ cups mashed overripe banana, extra bana to decorate
2 whole eggs
¼ cup coconut oil
⅓ cup Lakanto Maple Syrup
½ cup natural coconut yogurt
1 teaspoon vanilla extract
2 cups self raising flour
2 tablespoons whey protein
1 teaspoon baking powder
1 teaspoon cinnamon powder
¼ teaspoon salt

Method:
Preheat oven to 160ºC fan forced. Line a 8x4 inch pan with parchment paper
and grease the inside of the pan to prevent sticking.
Add mashed banana, eggs, coconut oil, maple syrup, natural yogurt and vanilla extract to a blender and blend until smooth and well combined. Pour into a large bowl.
Next add in the self raising flour, whey protein, baking powder, cinnamon and salt.
Mix well until just combined. Do not over mix.
Pour batter into prepared pan. Split a banana down the middle then add on top of the batter or just add banana slices on top, side by side.
Bake for 55-65 minutes or until a skewer inserted into the middle comes out clean or with just a few crumbs attached. Allow bread to cool in the pan for 10 minutes, then remove and transfer to a wire rack to finish cooling.
RSLA031