Halloween Tart

- Chocolate Short Crust, Sponge Cake, Maple Custard, Chocolate Soil, Meringue
Serves 4
The winning entry of the Australian Culinary Federation's Pastry Chef of the Year competition for 2020.
Gunawan from South Australia created this beautiful, spooky Halloween inspired dessert that's still wonderful to enjoy at anytime of year! A great kids birthday tart!
Enjoy his recipe and demonstration VIDEO to re-create this dish.
Gunawan has used a wonderful range of Lakanto products that showcase how Lakanto products are great in a home setting but also work in a commercial setting for chefs.
Pastry chefs take note: This is a game changer for your desserts! You can make all your creations without the large amount of sugar and open up to a whole other range of customers, as we can all see more and more people are avoiding consuming large amounts of sugar.
Big thank you to the ACF & Congratulations to Gunawan!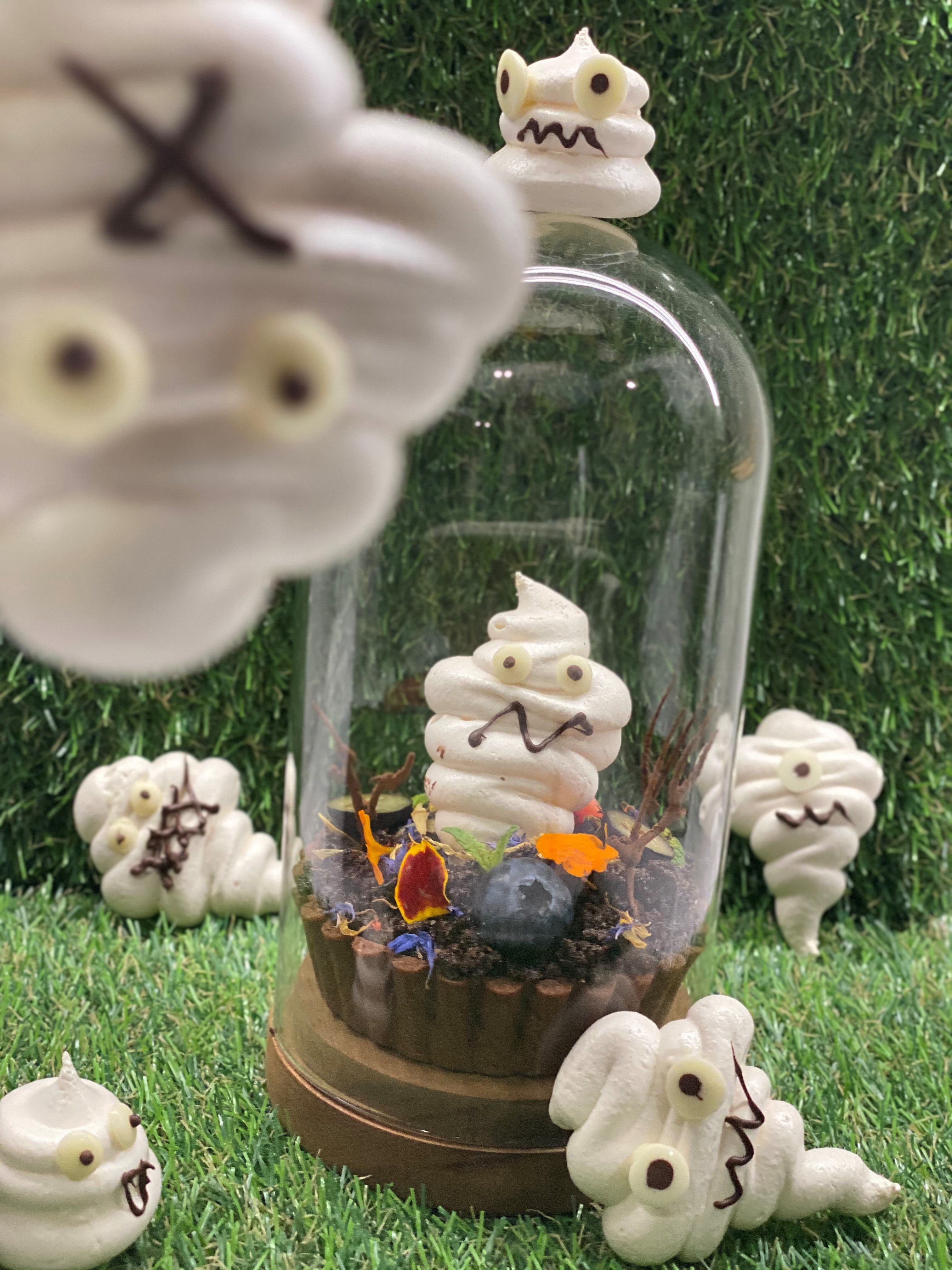 Chocolate Short Crust
Ingredients
125g Plain Flour
5g Cocoa Powder
65g Lakanto Sugar free Icing Powder
65g Unsalted Butter
30g Almond Meal
Pinch of Salt
1 Egg
Method
In food processor, place all the ingredients except the egg.
Blitz until it form a crumbly texture, then add in the egg and blitz for another minute until a dough is formed.
Wrap the dough in cling wrap and chill for 1 hour.
Preheat the oven to 170 C.
Roll out the dough on a lightly dusted bench surface to 3mm thickness.
Line the base and side of the tart pan. Place the dough in the pan and dock the tart with fork and bake for 12-15 mins.
Sponge Cake
Ingredients
2 Eggs
50g Lakanto Baking Blend
50g Plain Flour
10g Coconut Oil
Method
Preheat oven to 200 C
In a a bowl of a stand mixer, beat the eggs and Lakanto Baking Blend until it forms a figure of eight. Then slowly fold in the plain flour and coconut oil.
Pour the batter into a flat tray and bake for 12 minutes.
Once cooled, with ring cutter cut the shape to fit inside the tart.
Maple Custard
Ingredients
1 Egg yolk
20g Lakanto Classic Monkfruit Sweetener
10g Corn flour
200ml Milk
30g Lakanto Maple Flavoured Syrup
1 tsp Vanilla Paste
Method
In a medium sauce pan, bring milk, Lakanto Maple Flavoured Syrup and vanilla paste to simmer.
In another bowl beat egg yolk and Lakanto Classic Monkfruit Sweetener together until the sweetener dissolves. Then whisk in the corn flour.
Pour 1/3 of the milk mixture into the egg mix to temper, then mix well.
Once that's incorporated, pour the tempered mix back into the milk sauce pan and whisk in medium heat until it thickens.
Strain into a bowl and cool in fridge.
Chocolate Soil
50g Almond Meal
25g Lakanto Golden Monkfruit Sweetener
25g Cocoa Powder
15g Coconut Oil
Method
Mix all dry ingredients in a bowl, then with your fingertips rub the coconut oil in with the dry ingredients until it forms a soil texture.
'Ghost' Meringue
50g Egg White
100g 'Lakanto' Classic Monkfruit Sweetener
Method
Pre heat the oven to 90 C.
In a mixer, beat the egg white until a soft peak forms, then pour in the Lakanto Classic Monkfruit Sweetener in 3 stages until the meringue forms a stiff peak. Place in a piping bag.
On a lined tray pipe the meringue into a ghost shape and bake for 1 hr.
To Serve
Tart Shell
Sponge Cake
Maple Custard
Chocolate Soil
Ghost Meringue
Dried Flowers
Blueberry
Strawberry
Chocolate Twig (optional)
Mint leaf
Edible Flowers
Place the sponge cake onto the tart shell, and pipe the maple custard to cover the tart.
Then spoon the chocolate soil to cover the top of the tart.
Place the dried flowers, edible flowers, mint leaf, blueberry, and strawberry on the chocolate soil.
Place ghost meringue in the middle
Place the chocolate twig (optional) beside the ghost meringue.
We hope you enjoy this incredible dessert, if you make it don't forget to tag us @lakantoaustralia #ResponsiblySweet
You can follow Gunawan on socials: @awi_wu on Insta and on his YouTube channel here.