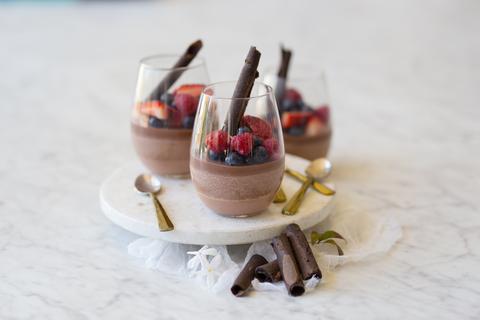 A rich indulgent chocolate Panacotta layered with chocolate sauce and flaked chocolate. Serve this at your next dinner party for a guilt free dessert.
Serves 4
Prep Time: 10 Minutes

Ingredients
2 ½ teaspoon gelatine, powdered
3 tablespoon hot water
1 cup full cream
1 cup whole milk
¼ cup Lakanto Monkfruit Classic Sweetener
1 teaspoon vanilla essence
4 squares sugar-free dark chocolate, roughly chopped
2 tablespoon cocoa powder
Chocolate Sauce
1 cup cream
1 tablespoon cocoa powder
1 tablespoon Lakanto Monkfruit Classic Sweetener
30g sugar-free dark chocolate

Method
1. In a small pot add the cream milk chocolate, sweetener and vanilla bring this mix to the boil. Immediately remove from the stove.
2. Dissolve the gelatine powder in the hot water in a small bowl or cup.
3. Add the gelatine to the mixture and allow to cool to room temperature before pouring into your glasses or moulds.
4. Pour into your desired glasses and put in the fridge it should take a couple of hours to set properly.
5. To make the sauce simply add all the ingredients into a small pot heat and bring to the boil set aside, once the Panacotta has set pour in the chocolate sauce top with grated chocolate and serve.