The choc lava pudding of dreams, satisfying everyone with its vegan, gluten free, no added sugar goodness.
Fan of extra ooze and drip? Add more of our delicious Chocolate Topping after cooking without the sugar hit traditional topping would give you.
Serves 4
Ingredients
Dry
1 slightly heaped cup Gluten Free Flour
7 tbsp Almond Meal
5.5 Tbsp Lakanto Baking Blend
3 tbsp Cacao Powder
1.5 tsp Baking Powder
1/4 tsp Baking Soda
Pinch of Salt
Wet
2/3 cup Almond Milk
1 tsp Vanilla Extract
2 Tbsp Lakanto Chocolate Topping

Filling
10g Sugar Free Chocolate of choice AND / OR Lakanto Chocolate Topping

Method
1. Preheat oven to 180°C and grease 4-6 small oven safe ramekins or cups, Grease and then line with desiccated coconut
2. Process all dry ingredients in a food processor or blender.
3. Add the wet ingredients and mix again until combined.
4. Pour the mixture into the ramekin and place the chocolate and/or Lakanto Chocolate Topping into the center. Chill in the fridge for approx 1 hour.
5. Remove from fridge and bake in the oven for about 20 minutes. If you use small moulds the baking time will be approximately 15 minutes.
6. Turn the pudding upside down on the plate you wish to use for 2-3 minutes this steaming effect should allow the pudding to fall out naturally
7. Serve immediately with your favourite ice cream, yoghurt or coconut yoghurt.
8. If you'd like extra chocolate ooze, after turning out onto the plate poke a small hole in the top and pour more chocolate topping into it. Yum.

Approx Nutritional Information Per Serve 140g - Energy 1030 kJ (246 Cal) - Protein 6.8g - Total Fat 13.6g Saturated Fat 3.5g - Carbohydrate 23.2g - Fibre 5.8g - Natural Sugar 3.5g Sodium 647 mg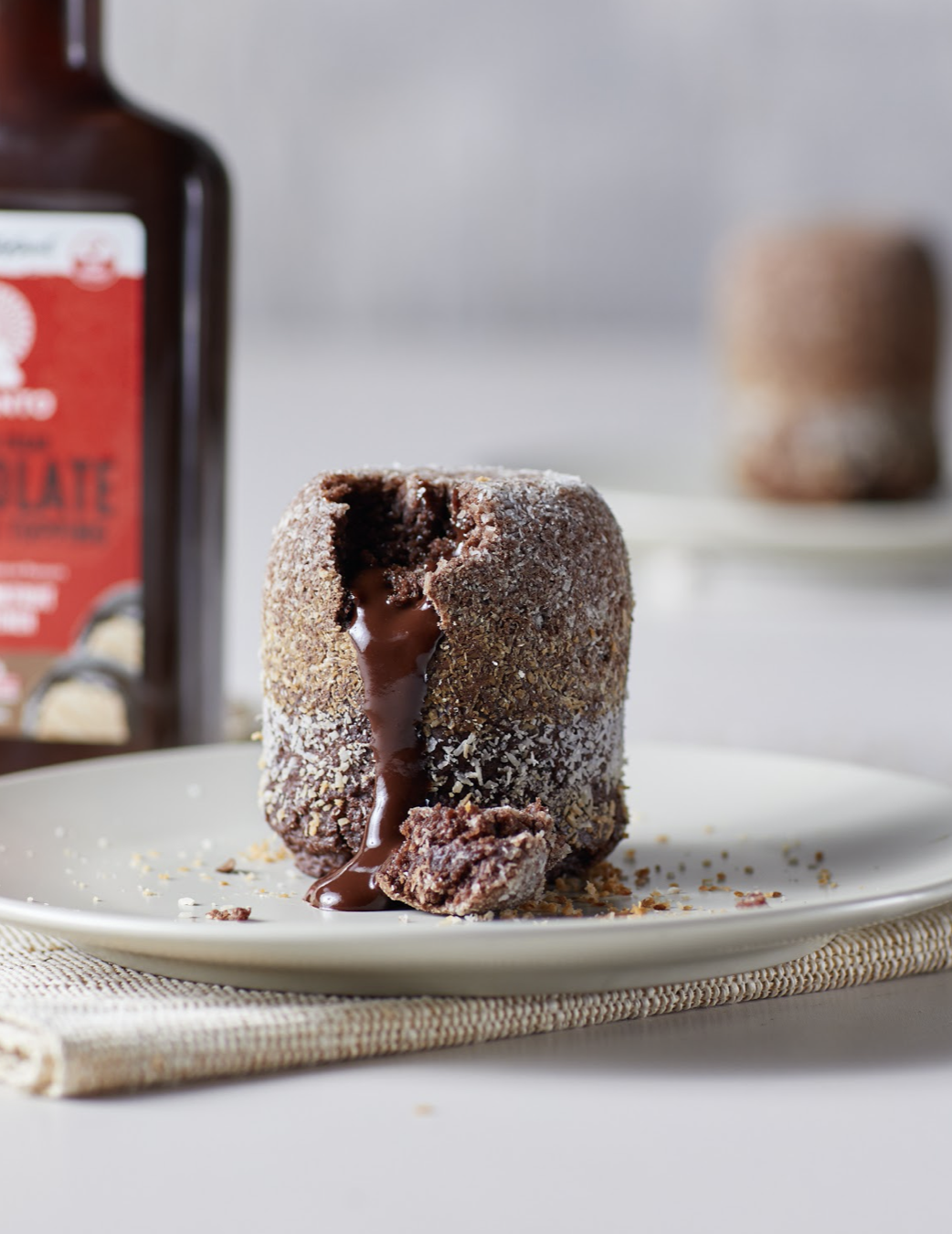 RSLA0144