The Perfect Vegan Dessert. Full stop.
There's berries, there's fluffy meringue and most importantly there's rose petals.
What Is Aquafaba?
In 2015, after the vegan community had tried everything to re-create the elusive egg white meringue, it was discovered that the liquid in canned beans, specifically chickpeas, when whipped like egg whites, turned into a perfect, airy, sweet, and crispy meringue.
Using Lakanto this recipe has 97% less sugar! That saves you 31g of sugar per serve 😍
Makes 8 Meringue Nests
Vegan Meringues

liquid from 1 can of chickpeas
1/2 tsp cream of tartar
1/2 tsp vanilla extract
3/4 cup Lakanto Baking Blend
Coconut whipped cream

Toppings

Fresh berries
White Cacao Butter
Dried Rose Petals
Method
Place the chickpea liquid in a stand-up mixer with the whisk attachment. Add cream of tartar and vanilla extract. Whip on high for 5-6 minutes until the aquafaba has formed medium-stiff peaks. During that time, slowly add the Baking Blend, about 1/4 cup at a time.
Pipe the meringue nests about 2 inches in diameter on a parchment-lined baking sheet. With a spoon, create a well in the middle. Bake at 90 degrees for 2 hours, until firm.
To make coconut whipped cream, whip up coconut solids with a handheld mixer. Add Lakanto Icing Powder and vanilla extract and whipped until the coconut cream is similar in texture to whipped cream.
Once meringues have baked, top with about 1 tablespoon of coconut whipped cream each and 3-4 berries. Drizzle melted cacao butter and sprinkle with dried rose petals.
Serve immediately.
Approx. Nutritional Information Per Serve 60g - Energy 247 kJ (59 Cal) - Protein 0.4g - Total Fat 4.2g Saturated Fat 3.4g -
Carbohydrate 1.8g - Fibre 2.7g - Sugar 0.9g Sodium 5mg Erythritol 27.3g
Vegan / Low Carb / Diabetic Friendly / Gluten Free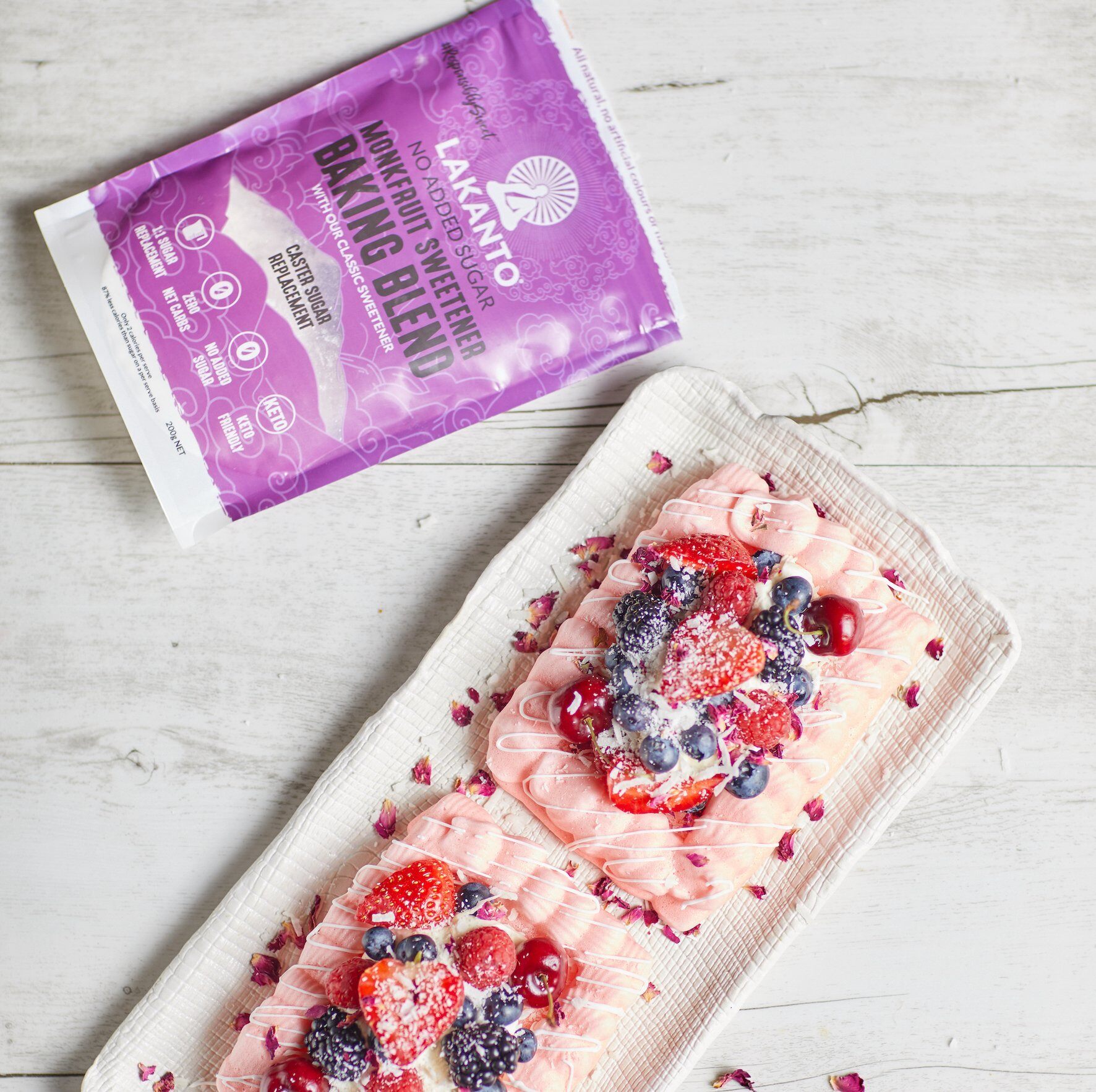 RSLA0179