Simply a classic Traditional Strawberry jam with 96% less sugar.
The perfect toast companion, which is now Diabetic Friendly.
94% less sugar - Naturally Sweet - Diabetic Friendly - No Added Sugar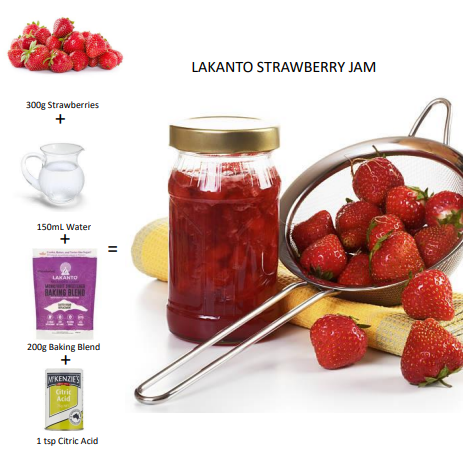 INGREDIENTS
● 300g Fresh Strawberries
● 150mL Water
● 200g Lakanto Baking Blend
● 1 tsp - 5g Citric Acid
METHOD
1. Wash the fresh strawberries in cold water and drain remove the green leaves and stalk.
2. Rinse a kilner jar or jam jar with boiling water to sterilise the container.
3. Use a heavy bottomed small pot and add the strawberries and water.
4. Place over a medium heat and add the Lakanto baking blend and citric acid.
5. Bring the mixture up to a boil and then turn down to low heat and cook for approx. 5-10 minutes.
6. Pour the mixture directly into your kilner jar and allow to cool for approx. 10 minutes then seal the lid tight.
7. This will help retain the moisture and begin the preserving method.
8. Keep Refrigerated
TIP: Fresh Over Frozen?
Choose any fruit that's ripe but still firm and try your own recipes. When making jam with Lakanto Sweeteners (Baking Blend) use the suggested ratio a lot of jam recipes will suggest 1 part fruit 1 part sugar. We recommend a lower ratio of Lakanto when using fruit that is in season and very ripe as the fruit is already high in natural sugar. As our baking blend has been carefully crafted using natural ingredients we achieve the same results as these heavily based sugar recipes but with out the calories and
sugar having the same great taste and natural colour. You can still achieve great results with frozen fruit but it is usually less sweet.
Approx. Nutritional Information Per Serve 30g - Energy 61 kJ (15Cal) - Protein 0.1g - Total Fat 0.0g Saturated Fat 0.0g - Carbohydrate 1.0g - Fibre 1.8g - Natural Sugar 0.7g Sodium 0.0mg Erythritol 8.8g